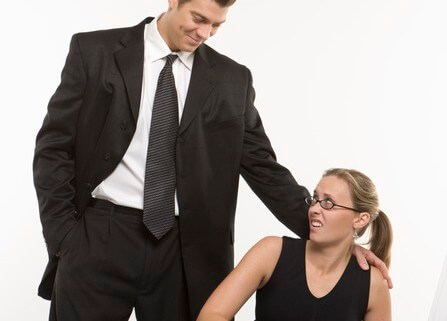 Denton, TX – Sexual harassment is a serious matter that can result in legal action and various investigations by government agencies. However, there are certain requirements that must be met to take formal action. These conditions are related to the formal legal definitions of workplace harassment, and whether the behavior in question rises to the level of meeting all of the appropriate elements. 
Types of sexual harassment
One type of sexual harassment that is legally actionable is when the employer creates a hostile work environment through allowing or participating in actions that can affect the victim's ability to work safely and function. The definition given by the government is that the person must continually endure the conduct in question, and that the problematic behavior is pervasive enough to be considered abusive by a reasonable person. In most situations, this means that a single offensive comment or argument with coworkers will not meet the elements of a hostile work environment claim. However, if a worker has had to experience this kind of treatment on multiple occasions or a regular basis, it is much more likely that the claim will succeed. 
In other cases, the victim may experience some kind of harassment or discrimination based on protected characteristics. In issues related to sexual harassment, this is usually related to their gender or sex. The victim is often told to behave a certain way or perform degrading acts as a condition of continued employment. Any kind of adverse treatment that is based on a legal protected class such as race, gender, religion, or national origin is legally actionable. 
Covert forms of discipline
Individuals who think that they may have become victims of harassment should also look for covert forms of discipline and retaliation by their employer. In some cases, this could mean using neutral means such as a performance review or financial issues as a pretext to terminate a worker's position.
Filing a complaint
Permission to sue is given through either the federal Equal Employment Opportunity Commission or the Texas Workforce Commission based on a complaint filed by a worker. The commission can investigate the matter, try to resolve it on their own, or tell the victim that they now have the right to sue based on the findings. It is beneficial for victims to retain a lawyer before they start this process to ensure that they are following the steps correctly.
Assistance from licensed attorneys in Texas
Moore and Associates is available to help victims of sexual harassment with lawsuits against their employer. Anyone who lives in the Denton area and needs to meet with an attorney can get in touch with the firm to get more information. 
Firm contact info:
440 Louisiana Street, Suite 675, Houston, TX 77002
713-222-6775
www.mooreandassociates.net
https://sexual-harassment-lawyers.usattorneys.com/wp-content/uploads/sites/2/2021/06/photodune-418474-inappropriate-work-behavior-xs.jpg
447
447
brian
https://usattorneys.com/wp-content/uploads/sites/2/2020/01/logo.svg
brian
2021-06-26 08:52:06
2021-06-26 08:52:07
How does a victim of harassment in Denton know if they are able to bring a lawsuit?